Dr. Eric Anders has been surrounded by Chiropractic for as long as he can remember. He is a second generation Chiropractor and he feels fortunate to have grown up seeing so many people helped by Chiropractic. Dr. Anders developed an appreciation for this even before deciding to pursue his own career in the profession.
Dr. Anders completed his first triathlon at the age of 7, and since then, he's never stopped competing. He is proud to have competed collegiately in cross country and track and also to have finished 3 Ironman triathlons. He knows firsthand what it feels like to be injured and unable to enjoy the activities you love and without Chiropractic care, he would not have had the same enduring competitive career.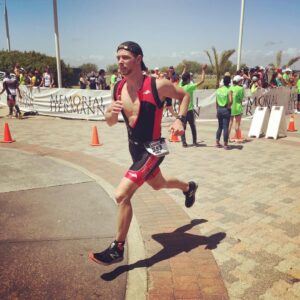 Before deciding to become a Chiropractor, Dr. Anders worked as a Personal Trainer and it was during this time that he came to appreciate how much people could help themselves to feel better through a proper movement practice. However, there still existed problems for his clients that he could not help them address and this was how he decided to begin his career in Chiropractic. So he could merge his knowledge in functional movement and rehabilitation with the focused care a Chiropractor can provide.
Dr. Anders first joined our team while finishing his Chiropractic education, he was with us for a 9 month internship before officially joining Hosmer Chiropractic Health! Throughout his education, he completed training in Motion Palpation Institute (MPI), Active Release Technique (ART),  and Dynamic Neuromuscular Stabilization (DNS).
Dr. Anders enjoys being active and competing in triathlons with his wife, Anna, and they can often be found running or hiking with their dog, Henry.
Dr. Anders has a passion for helping people show up in life as the best version of themselves and he knows this is not possible when pain or injury is holding you back.