Introducing Ashiatsu Barefoot Massage to HCH
This is a guest blog written by Amy Hastanan, LMT.
"When a person is sick at Siam, the whole body is to be moulded by one who is skillful herein, who gets upon the body and tramples him under his feet."
-Simon do la Loubere, French liason to the Thai Royal Court in Ayutthia, 1690.
During a recent trip to New York, my birthplace, I was asked by my eldest sister, "How did you end up where you are now?" She was referring to my chosen career path of 10 year as a Massage Therapist and completion of a Master's Degree in Acupuncture and Chinese Herbal Medicine. As I quilted my life together in a mosaic that could best answer her question, she added a memory that I was too young to recall.
She said, "One day when we were on Dad's boat, I got seasick. You were only 4 or so. You told me to lie down and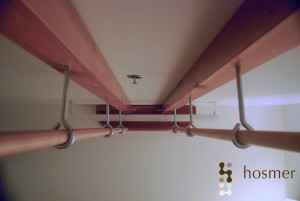 you massaged my shoulders and head. I felt better." We both began to tear up because it made life seem so simple. Fast forward 30 years, we had shared in that moment, something I was passionate about and willing to pursue.
My experience with eastern healing arts began with travels to Asia throughout my twenties.Thai massage was a skill I wanted to learn and a way for me to engage my heritage. In 2005, I completed training in Thailand and by 2007 I enrolled at NYC's Swedish Institute, the oldest continuously operating massage therapy institution in the US. There, I studied Deep Tissue with a western medical approach – alongside Shiatsu, an eastern massage modality with focus on five element theory and meridian systems. Both Thai massage and Shiatsu incorporate martial arts moves, rhythmic pushing and pulling and the use of therapist thumbs, palm, forearm, knees, and feet.
It came most naturally to add Ashiatsu Oriental Bar Therapy® (AOBT), a modern form of barefoot bodywork, to my repetoire because of my past training in eastern therapies. Both Ashiatsu and Shiatsu are Japanese in origin, yet Ashiatsu means foot pressure versus finger pressure. Ashiatsu employs gliding and static deep compressions with the use of the therapists bare feet while holding on to an overhead bar system. This allows the therapist to engage larger muscle groups with the assistance of gravitational force and controlled bodyweight. We're excited to have recently installed overhead bars in my treatment room at Hosmer Chiropractic Health, and begin to routinely offer this treatment to patients.
Within a treatment, I integrate all the above therapies to develop tailored sessions that are both focused and relaxing. In working with athletes and both acute and chronic injuries, it is imperative for me to be effective in reducing pain and inflammation. Using a mixed modality method is my approach to recovery and rehabilitation.
Benefits of Ashiatsu can be broken down into four elements: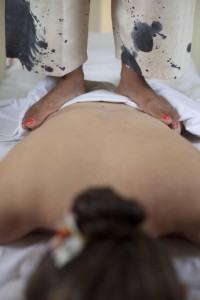 Structural change

. Centripetal and centrifugal massage movements, pushing blood and lymph toward and away from the center of body respectively, are combined to mimic the way fluids flows through the veins and within the tissue. Ashiatsu helps break down adhesions between muscle fibers and fascia.

Improved circulation.

Rehydrating the tissue reduces pain and inflammation because cellular metabolic waste is being eliminated at a higher rate, and promotes joint and vertebral mobility.

Better postural alignment.

Ashiatsu promotes joint and vertebral mobility. Deep compressions mobilize the spine and pelvis to reduce restriction.

Deep relaxation.

The fat pads of the feet are perfectly suited to apply ample pressure with ease over broader surface area without the sharp sensation one may get from elbows or thumbs.
After Ashiatsu, you may:
Hydrate (do not consume alcohol)

Engage in passive stretching

Enjoy a hot sauna, steam, or jacuzzi

Apply local analgesics like BioFreeze, IcyHot, Tiger Balm, etc.
AOBT may not be right for you if:
Pregnant or those trying to conceive; Ashiatsu should be avoided until approximately 6 weeks after delivery.

Received implants within 9 months. This includes breast, pectoral, gluteal, or calf.

Received Botox, stem cell injections, or cortisone shots. You should allow 3-5 days to pass before receiving Ashiatsu or the local area can be avoided.

Acute skin irritation

Varicose veins and their removal must be treated gently and with caution

Recent eye procedures such as Lasik surgery within 72 hours

Any acute inflammatory conditions or recent surgery

Are on bloodthinners

Uncontrolled high blood pressure or heart conditions, pacemaker or shunt, rib fracture

GuillainBarre syndrome or any disorder that causes loss of feeling or weakness
Please inform your licensed massage therapist (LMT) if you have any health issues. AOBT may not be for everyone. Depth and strength of this massage can be adjusted to suit your needs. Consult with your chiropractor if you have concerns about receiving deep, aggressive, compression massage work.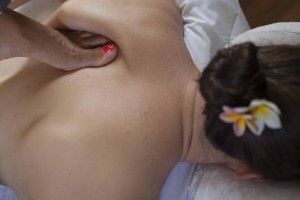 FAQs:
Is Ashiatsu covered by my health insurance at Hosmer Chiropractic Health?
Yes! Since massage is billed through the chiropractic license at our clinic, your massage benefits do not change based on the type of massage. It will continue to be billed the same as deep tissue massage at our clinic.
How can I receive Ashiatsu?
Give our office a call for more information! (503) 227 – 2279