HCH Elite Racing Team – Trevor Spahr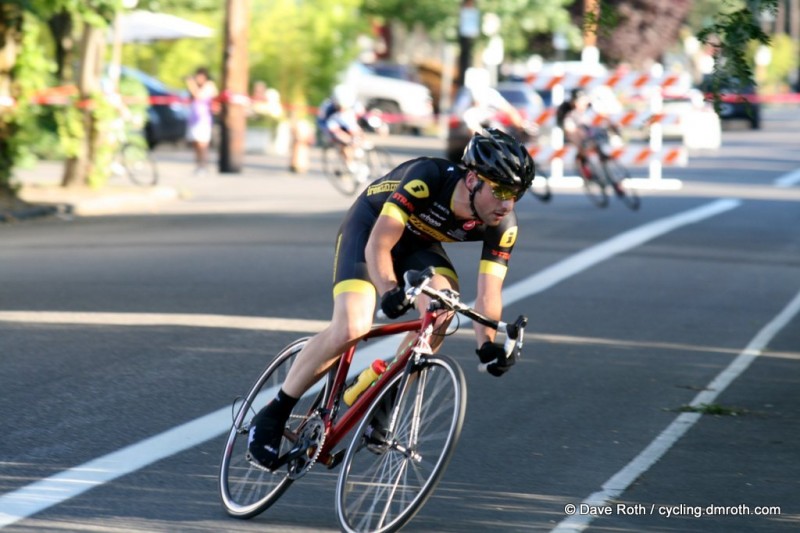 Although Trevor Spahr has been a successful Cat 2 racer with Portland's Ironclad team for the past couple of seasons, 2013 marks his first bid to race some of the toughest events in the region, and to see how far he can push himself in the sport.
Trevor can do it all, but he excels at time trials and breakaways. To carve out every last ounce of speed, he maintains an aggressive, aerodynamic position, which can be a strain on athletes' hamstrings, lower back, neck and shoulders. Hosmer Chiropractic is helping him to keep his edge.
Trevor recently sent in this testimonial.
From Trevor:
The biggest issues that Dr. Hosmer observed with my body was the significant tightness in my upper and lower back. He performed a complete run-through on my joints from the feet up, checking for range of movement and if there were any alignment issues. Dr. Hosmer very informative during the entire process, answering my questions and explaining what we was doing as he worked.
I had some concerns with a minor joint pain that I addressed with Dr. Hosmer. After a focused assessment of the area, he didn't feel it cause for major concern and suggested possible fixes that could be made on the bike. Later in the exam he demonstrated stretches and specific foam rolling techniques that could also help alleviate the problem.
I appreciate Dr. Hosmer's ability to connect his profession with the lifestyle of the cyclist. Because of this he is better able to communicate both his work and the causes of body issues, as well of the impacts those issues will likely have on athletic performance. In my case, he was able to explain the precise cause of my back tightness without any questioning on my lifestyle or the demands of my athletic pursuits because his experience with cyclists means it's an issue he sees regularly.
Overall my experience with Dr. Hosmer was extremely positive. He was very thorough and open about the chiropractic process and even went the extra steps to demonstrate with me home stretching that would help improve any issues. If more major issues arise in the future, I won't hesitate to take them to Dr. Hosmer.
For more about the HPChiro-RPM Mortgage Cycling, check out the team website and Facebook page.