Kinespirit Circle – Gyrotonics & Pilates Studio
The following post is guest-written by Amy, Studio Manager of Kinespirit Circle.
Hello Hosmer Chiropractic Community!
My name is Amy Healy and I am the Studio Manager at Kinespirit Circle: Pilates + Gyrotonic, located one block away from Hosmer Chiropractic Health. I am excited to share why we are so passionate about Pilates + Gyrotonic and how we could be wonderful complement to the services at Hosmer Chiropractic Health. First things first — let's talk about the basics.
So, what is Gyrotonic? 
Gyrotonic is a powerful system of exercise for conditioning, stretching, strength, balance, and flexibility. The exercises build muscular strength and promote stability around the joints, enabling increased range of motion.
What are the benefits of Gyrotonic?
Strong, lean muscles
Increased flexibility, coordination, and balance
Joint mobility and articulation
Release of pain and restrictions of the body
…and so much more!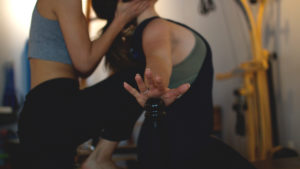 And Pilates?
Pilates is a non-impact workout that challenges every quadrant of the body, focusing on core muscular stability. It strengthens and tones the body, providing greater stability and less chance for injuries.
What are the benefits of Pilates?
Mobility and flexibility
Strong, lean muscles
Improved balance, centering, and coordination
…and so much more!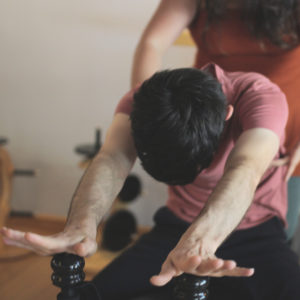 Why private sessions/small group classes?
Private sessions allow for a customized experience! Our trainers will get to know your needs/goals and work with you to make it happen. Along with meeting your goals, our trainer will ensure you have proper form, know the Pilates + Gyrotonic lingo, and feel super comfortable with the equipment.
We also offer group classes at Kinespirit Circle. The max number of people in a group equipment class is three people. You heard that right — three! We love that we are able to offer small class sizes and don't have to compromise on attention to every student.
New Client Intro Pack!
We have an awesome new client special that we hope you'll take advantage of! We offer three private sessions in either Pilates or Gyrotonic (you can mix and match!) for $165. During your first session you will discuss your goals with one of our certified trainers and get to work!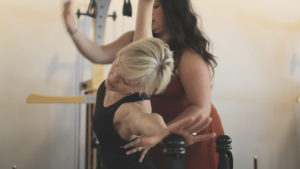 Interested to learn more? Check us out below:
Facebook / Instagram: @kinespiritcircle
Phone: 503-235-3556
We look forward to having the Hosmer Community in our studio!