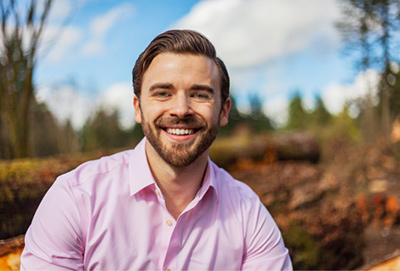 We are excited to welcome Dr. Nic West to the Hosmer Chiropractic Health team at our Pearl District location!
From a young age, Dr. Nic West knew he wanted to help people. The first time he heard the philosophy of Chiropractic, he realized it was the path he wanted to follow. Originally from Indiana, Dr. West pursued his education at Palmer College of Chiropractic in Davenport, Iowa.
While attending Palmer, Dr. West felt that he needed to learn more in order to be the absolute best Chiropractor he could be. He subsequently earned an internship in the Troxell Intern Program, the most intensive Gonstead Chiropractic education available. While in the Troxell Intern Program he learned, practiced, and taught all aspects of the Gonstead System to students and doctors all over the world.  He continues to teach the Gonstead method through seminars given in the U.S. and internationally. Having practiced chiropractic in Hawaii for two years, Dr. West recently moved to Oregon to be closer to family.
During his tenure at Palmer and associated internships, Dr. West discovered his passion in caring for children. While Chiropractic care is extremely important for all ages, he focused much of his schooling and his internship work on pediatric care, prenatal care, and young families hoping for children. Dr. West has found chiropractic to be extremely rewarding and impactful work, particularly in terms of pediatric care. The proper development of a child's nervous system ensures the proper development of all other functions and systems, making chiropractic paramount in children and infants of all ages. As with all our providers, Dr. West has extensive Active Release Technique (ART) training and is Full-Body ART certified as of this December!
When not in the office, Dr. West has a wide array of hobbies, including cooking, weight lifting and training, and anything that involves being outdoors. He especially enjoys traditional archery, hunting, and fishing. He truly believes that living in and coinciding with nature is of the utmost importance to all aspects of health and in life in general.