Hosmer Chiropractic Health was founded in 2007 by Dr. Seth Hosmer. With three locations - Pearl District, Multnomah Village and Oregon City - we offer treatment for a wide variety of conditions including:
Sports
Injuries
Chronic
Pain
Car
Accidents
Post-Surgical Rehabilitation
General Musculoskeletal Aches and Pains
Repetitive Overuse Injuries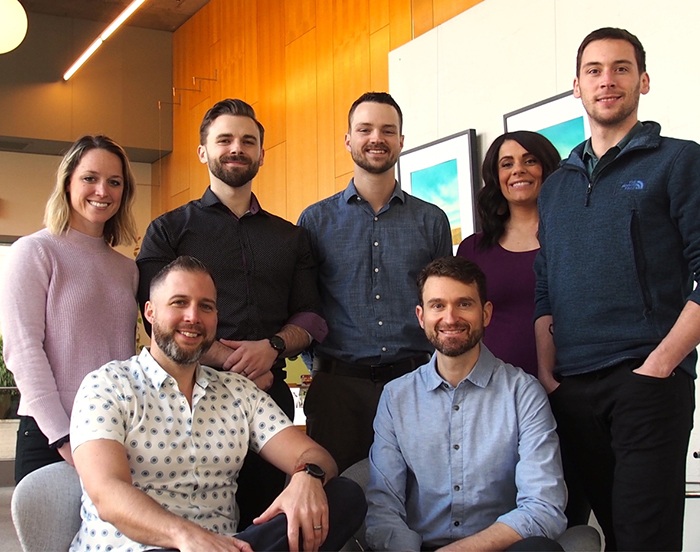 Our Chiropractic Treatment Philosophy Is Based On Three Main Principles:

Understand the patient, their medical history, and goals for treatment.

Provide safe and effective treatment.

Educate the patient so that they understand their condition, and learn how to minimize the likelihood of a future recurrence.
Our number one mission is helping patients. Our goal isn't to keep you dependent on having to schedule visits forever. We don't just give you treatment, we also give you the education and the tools to maintain your own health as much as possible and get back to the lifestyle you love.
We want you to be comfortable and confident with your healthcare choices, so we offer complimentary consultations for new patients so you can meet our doctors and ask questions about your treatment options. If we feel that you would be better served by seeing another provider, we have extensive contacts in a variety of other specialties.
To get an idea of the kinds of issues we solve, check out our blog for extensive education about things you can do at home to improve your health and mobility.
Our goal is to give patients a chance to improve their health.
Click on a photo for a full bio.
Click on a photo for a full bio.
Tessa (she/her)

LMT Manager (#18641)

X

Tessa (she/her)

LMT Manager (#18641)

Tessa has been practicing Massage Therapy since 2011. Her approach to the body is unique in the fact that she focuses on the individual needs of each client. Her goals with each client are to help them rebalance and learn how their body works and functions. She uses a variety of techniques to treat that include unwinding, deep tissue, trigger point therapy, PNF Therapy, prenatal and postnatal, sports injuries, motor vehicle accidents, and so much more.

 

When she is not working with patients she loves to spend time outdoors camping, hiking, swimming and playing with her dogs.

Sukho (he/him)

LMT (#10918)

X

Sukho (he/him)

LMT (#10918)

Sukho has been practicing massage in Portland, Oregon since 2003.  He completed his training at the COMTA accredited East West College of Massage. Sukho's training includes: Swedish Massage, Deep Tissue, Sports Massage (pre and post event), Myofacial Release and Pre-natal Massage.  He approaches his individually tailored sessions with an emphasis on pain reduction and restoring the body's natural movement patterns.  When this outcome is achieved, clients often report an overall reduction in stress and increased relaxation.

Sukho believes movement is a vital component to a healthy and fulfilling life.  When he is not encouraging his clients in their own wellness journeys, Sukho enjoys playing with his son and daughter, running, cycling, and Crossfit.

Daiva (she/her)

CA (#5427), MT

Pearl District

X

Daiva (she/her)

CA (#5427), MT

Pearl District

Daiva began her journey as a spiritual and physical healer in her home country of Lithuania as a practitioner of Reiki and Aromatherapy. She relocated to Los Angeles eight years ago to continue on her education where she graduated from Bryman College of Massage Therapy. For the next six years she gained experience working as a massage therapist in a Chiropractic Clinic treating mainly longshoreman. During this time, Daiva greatly expanded her knowledge and skill applying techniques such as deep tissue, sports massage, trigger point therapy and myofascial release. She enjoys working on a variety of conditions, and is particularly skilled at releasing chronically tight and overworked muscle groups.

In her leisure time Daiva enjoys reading, meditation, practicing Qi Gong, dancing, hiking and traveling.

Kyra Plume (she/they)

LMT (#18745)

Pearl District

X

Kyra Plume (she/they)

LMT (#18745)

Pearl District

Kyra graduated from East West College of the Healing Arts, in Portland, OR and holds a Bachelor of Arts degree in Fine Art and Literature from Lewis and Clark College, also in Portland. Kyra blends modalities to suit each patient's specific needs. She uses rehabilitative, relaxation, Thai, and Structural/Myofascial/Deep Tissue techniques to create patient specific and goal oriented sessions. Kyra loves to work with mamas and is certified in Pre- and Perinatal massage therapy by Carole Osborne's Body Therapy Education. She studies Oncology touch methods for people with a history of living with cancer. She is an Oregon Licensed Massage Therapist and an insured professional member of American Massage Therapy Association.   

She has been a pro bono provider for various community wellbeing programs including the Returning Veterans Project (returningveterans.org), and Taking Care Portland (takingcareportland.com). She volunteers as a Harvest Leader with Portland Fruit Tree Project (portlandfruit.org), is excited to be learning about tree care, and loves to garden and cook.

She has received training as a Wilderness First Responder and loves to be outside.

McKenna (she/her)

LMT (#22828)

Pearl District

X

McKenna (she/her)

LMT (#22828)

Pearl District

McKenna graduated with honors from the University of Western States Massage Therapy program and has been practicing massage since 2016. Her treatment style is versatile and tailored to each patient's needs, from deep tissue to stretching to relaxation. She also has advanced training in Ashiatsu, a style of deep tissue barefoot massage (ie: walking on you!) McKenna keeps busy with a variety of recreational activities and obscure competitive sports.

Stacey

LMT (#25974)

Pearl District

X

Stacey

LMT (#25974)

Pearl District

Stacey has been a massage therapist since 2018, and considers herself very lucky to work in a field she loves! Originally from the Pacific Northwest, Stacey lived in Las Vegas for a few years and  received her training from the Nevada School of Massage Therapy. NSMT has a very broad program and she had the opportunity to receive training in a wide variety of modalities. Prior to massage therapy, she worked in the medical field and the transition to a chiropractic clinic since her return to Portland has been a natural fit. Trigger point release is probably her favorite modality. "If you've got the knots, she's got the solution!"

Jay Williams (he/him)

LMT (#26326)

Pearl District

X

Jay Williams (he/him)

LMT (#26326)

Pearl District

Jay has been practicing massage since graduating from East West College of Healing Arts in the spring of 2021. His training includes deep tissue, myofascial release, neuromuscular, structural deep tissue, and is a Somassage® practitioner. His approach emphasizes freeing restrictions in the fascial connective tissue allowing for effective movement, structure, and support. He focuses on helping clients to better connect their mind and body through movement which he incorporates in his sessions.

Jay has fallen in love with Oregon since moving here in 2019. In his free time, he enjoys exploring the variety of landscapes and amenities this region has to offer with his partner. He also finds comfort being at home playing piano, knitting and weaving, or curled up with a good book.

Lacey (she/her)

LMT (#22287)

Pearl District

X

Lacey (she/her)

LMT (#22287)

Pearl District

Lacey got her start in the field of health as a personal trainer and group exercise teacher specializing in yoga for over 10 years. Her passion for health and well-being inspired Lacey to broaden her education in yoga and massage in the country of Nepal – an experience she will always cherish. Upon returning from her adventure in Nepal, she began her education in massage therapy at University of Western states. She specializes in therapeutic massage and treatment focused work.

Kristen (she/her)

LMT (#25451)

Pearl District, Multnomah Village

X

Kristen (she/her)

LMT (#25451)

Pearl District, Multnomah Village

Kristen is a graduate of East-West College of the Healing Arts, and a Licensed Massage Therapist. She is an East Coast transplant, and loves being a part of the Portland community! Kristen specializes in trauma informed care, with a medical/therapeutic style. As an Army veteran, she is experienced in working with people coping with trauma, PTSD and anxiety. Her goal is to make everyone feel like they are the most important person in the world while they are on her table! She uses multiple techniques to bring about physical healing in the musculature, from gentle work to deep tissue release. Kristen believes that good communication is the foundation for successful healing, and works closely with clients to discover the source of any pain or discomfort. Massage has given her a way to help others cope with their experiences in a safe, inclusive, understanding environment.

When Kristen isn't working or thinking about massage, she spends her time with family and friends. She loves to hike in the surrounding areas, visit the ocean, and travel any chance she can. She has three amazing (adult) children, and is blessed to have the two youngest living with her, who are also trans adults. So Kristen is personally familiar with many of the challenges the trans community faces, and considers herself an ally. Most of all, she feels that massage is her calling, and loves having the best job in the world!

Drew Daquiz,

LMT (#23752)

Pearl District

X

Drew Daquiz,

LMT (#23752)

Pearl District

Drew became a massage therapist in 2009 in the Seattle area and has been practicing in Portland since 2017.

Drew aspires to grow ever more present and trauma-informed in massage. They aim to share bodywork that promotes deeper awareness, capacity, and comfort in the nervous system; relaxation is a skill to be practiced.

Drew tailors each massage to offer the most digestible blend from his skillset for the body at hand.

People with anxiety or depression might benefit more from Craniosacral/Reiki/Swedish modalities, while athletes or crossfitters might enjoy louder stimulation from Deep Tissue/Shiatsu/Thai/Ashiatsu modalities to help listen to what has been suppressed.

In his free time Drew enjoys songwriting, dance, indigenous ceremony, climbing, and stand-up comedy.

Skye (they/them)

LMT (#24240)

Pearl District

X

Skye (they/them)

LMT (#24240)

Pearl District

Skye graduated from Milan Institute in Boise, Idaho and has been practicing Massage Therapy since 2014. They blend together deep tissue and myofascial release with dynamic and static cupping techniques. They specialize in postural correction, injury recovery, and chronic pain management. Their passion lies in working with the LGBTQIA+ community to create better overall health within the community and address injustices and biases in the healthcare setting.

Outside of bodywork, Skye can be found hiking, attending concerts and shows, volunteering, playing video games, or cuddling with their cat.

Kerrie (they/she)

LMT (#26411)

Pearl District

X

Kerrie (they/she)

LMT (#26411)

Pearl District

Originally from Oakland, CA, Kerrie received their massage therapy license in 2021 after attending East West College of the Healing Arts here in Portland. They enjoy practicing myofascial techniques as well as deep tissue and relaxation massage. When they are not practicing bodywork, Kerrie can be found at a local park with their pet tortoise or attempting to recreate a meal without consulting a recipe.

Gabe (he/him)

LMT (#27550)

Pearl District

X

Gabe (he/him)

LMT (#27550)

Pearl District

Gabe has been helping people improve mobility, function, and performance for over ten years. A graduate of East West College of the Healing Arts, Gabe began working with individual clients as a personal trainer at Portland State University, where he was a master trainer. His massage style incorporates elements of Thai, structural bodywork, corrective exercise, fascial
release, craniosacral therapy, trigger point, and muscle energy techniques. His approach is collaborative, holistic, and clinical with compassion.

Gabe understands well that life, when not a bowl of cherries, is a bouillabaisse of stressors, an ever-updating blend of impacts large and small. Sometimes we need compassionate touch; other times, an elbow in the trapezius is just the thing. We can only know through open communication, with one eye on the forest and the other on the trees.

David Lelong (he/him)

LMT (#24547)

Multnomah Village

X

David Lelong (he/him)

LMT (#24547)

Multnomah Village

Originally from Oahu Hawaii, competitive road cycling brought David to Portland, Oregon in 2009. This sparked his interest in a sports and movement oriented career.

David graduated from the Boulder College of Massage Therapy in 2013 and is actively licensed in Colorado and Oregon.

Utilizing a variety of techniques ranging from myofascial release, deep tissue, sports massage (pre/post event) and trigger point therapy, David creates a customized treatment for patient's specific needs. David's bodywork can best be described as rehabilitative and goal oriented to help restore the bodies natural mobility and balance.

In David's free time you can find him training or teaching Jiu Jitsu with his closest friends exploring the art of movement, timing and balance.

Leigh

LMT (#24241)

Multnomah Village

X

Leigh

LMT (#24241)

Multnomah Village

Growing up on the sleepy seaside of Oregon, Leigh found joy wandering rolling forests and rocky beaches. In 2012, she drifted inland, spending several years developing her love of sweets as a pastry cook before attending the University of Western States for massage therapy. Leigh's style blends a love of movement and condition-specific target work, using a clinical foundation of trigger point therapy, muscle energy techniques (METs), myofascial work, sports therapy, and tool-assisted bodywork. In addition to that foundation, Leigh's style is informed by the deep compressions and stretching of Thai massage and the rhythmic flow of Fijian.
Always looking to grow, Leigh is currently studying Sarga, a footwork-based myofascial modality out of Hawaii. When she isn't developing her massage style, you can find her experimenting in the kitchen, attempting any number of arts and crafts, and reading through the never-ending stack of books on her bedside table.

Ashley (she/her)

LMT (#5966)

Multnomah Village, Pearl District

X

Ashley (she/her)

LMT (#5966)

Multnomah Village, Pearl District

Ashley embarked on her massage journey in 2009 when a simple shoulder rub inspired her to pursue a career in massage therapy. During her time as a student, she discovered a passion for rehabilitation care and set out to work with chiropractors after graduating in 2013.

Throughout her years in practice, Ashley has added several modalities to her massage tool belt and performs Swedish, Deep Tissue, Cupping, Active & Passive stretching techniques, and her specialty Ashiatsu.

Ashley's massage techniques are solely based on a patient's individual needs and treats them with an intuitive and therapeutic approach to give the best possible results.

When she's not in the massage room, Ashley enjoys kayaking, cycling, swimming, snowshoeing, puzzles, cribbage, and playing with her Corgi Abbey

Susan Clarke

Multnomah village

X

Susan Clarke

Multnomah village

I support a whole body approach to wellness and I'm passionate about being part of a wellness team to help people reach their goals. Early in my life I discovered that getting massages helped me recover from the sports that I enjoyed playing. It became a regular part of my self care routine and that eventually led me to choose massage as a profession. I went to The Oregon School of Massage and obtained my Massage Therapist License in 2007. I've trained in a variety of modalities and enjoy continuing to learn new techniques.

Amy (she/her)

LMT (#9550)

Oregon City

Ariana

LMT (#023187)

Oregon City

Eugenia Sabatini

Oregon City

X

Eugenia Sabatini

Oregon City

While on a road trip, Eugenia fell in love with and moved to Portland from Asheville, NC in 1995. She completed her studies at East West Collage of the Healing Arts in the late 1990s and began practicing shortly afterward.

Having practiced massage therapy for 2+ decades, Eugenia has experience with a varied assortment of body complaints some of which are: repetitive injuries, chronic pain, migraines, fibromyalgia, people living with cancer, stress and anxiety.

Striving for goal-oriented sessions that calm the nervous system creating space for relaxation and healing. Eugenia uses a blend of Swedish relaxation, deep tissue, myofascial release, passive and active stretching to meet the needs of her clients.

When not in session Eugenia enjoys hiking and exploring with her family, browsing bookstores for more books to add to her never-ending TBR list, baking, and playing with yarn or embroidery floss.
Jen Goff-Hawkins

Clinic Manager

Ashley

Front Office Manager

Jessica

Administrative Assistant

Jillian

Accounts Specialist

Emma

Patient Care Coordinator

Pearl District

Alex

Patient Care Coordinator

Multnomah Village

Tracey

Patient Care Coordinator

Oregon City

Grace

Patient Care Coordinator

Oregon City

Ayanna

Patient Care Coordinator

Oregon City