Hosmer Chiropractic Health was founded in 2007 by Dr. Seth Hosmer. With two locations in the Pearl District and Multnomah Village of Portland, Oregon, we offer treatment for a wide variety of conditions including:
Sports
Injuries
Chronic
Pain
Car
Accidents
Post-Surgical Rehabilitation
General Musculoskeletal Aches and Pains
Repetitive Overuse Injuries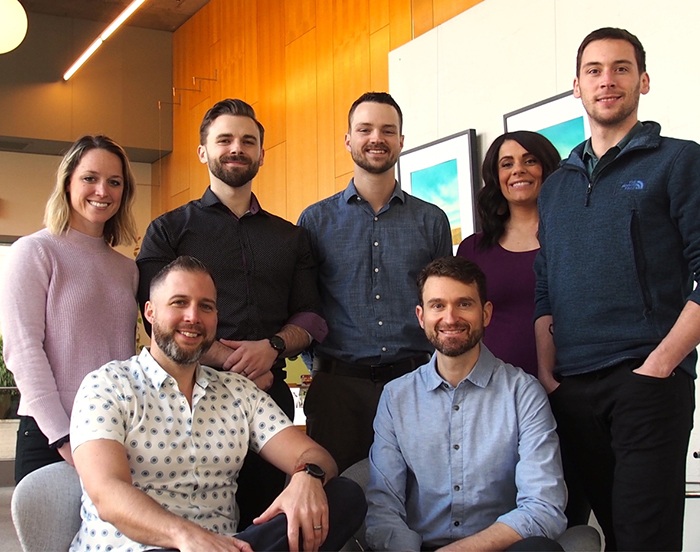 Our Chiropractic Treatment Philosophy Is Based On Three Main Principles:

Understand the patient, their medical history, and goals for treatment.

Provide safe and effective treatment.

Educate the patient so that they understand their condition, and learn how to minimize the likelihood of a future recurrence.
Our number one mission is helping patients. Our goal isn't to keep you dependent on having to schedule visits forever. We don't just give you treatment, we also give you the education and the tools to maintain your own health as much as possible and get back to the lifestyle you love.
We want you to be comfortable and confident with your healthcare choices, so we offer complimentary consultations for new patients so you can meet our doctors and ask questions about your treatment options. If we feel that you would be better served by seeing another provider, we have extensive contacts in a variety of other specialties.
To get an idea of the kinds of issues we solve, check out our blog for extensive education about things you can do at home to improve your health and mobility.
Our goal is to give patients a chance to improve their health.
Click on a photo for a full bio.
Click on a photo for a full bio.
Sukho

Lead LMT

Pearl District

X

Sukho

Lead LMT

Pearl District

Sukho has been practicing massage in Portland, Oregon since 2003.  He completed his training at the COMTA accredited East West College of Massage. Sukho's training includes: Swedish Massage, Deep Tissue, Sports Massage (pre and post event), Myofacial Release and Pre-natal Massage.  He approaches his individually tailored sessions with an emphasis on pain reduction and restoring the body's natural movement patterns.  When this outcome is achieved, clients often report an overall reduction in stress and increased relaxation.

Sukho believes movement is a vital component to a healthy and fulfilling life.  When he is not encouraging his clients in their own wellness journeys, Sukho enjoys playing with his son and daughter, running, cycling, and Crossfit.

Daiva

CA, MT

Pearl District

X

Daiva

CA, MT

Pearl District

Daiva began her journey as a spiritual and physical healer in her home country of Lithuania as a practitioner of Reiki and Aromatherapy. She relocated to Los Angeles eight years ago to continue on her education where she graduated from Bryman College of Massage Therapy. For the next six years she gained experience working as a massage therapist in a Chiropractic Clinic treating mainly longshoreman. During this time, Daiva greatly expanded her knowledge and skill applying techniques such as deep tissue, sports massage, trigger point therapy and myofascial release. She enjoys working on a variety of conditions, and is particularly skilled at releasing chronically tight and overworked muscle groups.

In her leisure time Daiva enjoys reading, meditation, practicing Qi Gong, dancing, hiking and traveling.

X

Kyra graduated from East West College of the Healing Arts, in Portland, OR and holds a Bachelor of Arts degree in Fine Art and Literature from Lewis and Clark College, also in Portland. Kyra blends modalities to suit each patient's specific needs. She uses rehabilitative, relaxation, Thai, and Structural/Myofascial/Deep Tissue techniques to create patient specific and goal oriented sessions. Kyra loves to work with mamas and is certified in Pre- and Perinatal massage therapy by Carole Osborne's Body Therapy Education. She studies Oncology touch methods for people with a history of living with cancer. She is an Oregon Licensed Massage Therapist and an insured professional member of American Massage Therapy Association.   

She has been a pro bono provider for various community wellbeing programs including the Returning Veterans Project (returningveterans.org), and Taking Care Portland (takingcareportland.com). She volunteers as a Harvest Leader with Portland Fruit Tree Project (portlandfruit.org), is excited to be learning about tree care, and loves to garden and cook.

She has received training as a Wilderness First Responder and loves to be outside.

X

McKenna graduated with honors from the University of Western States Massage Therapy program and has been practicing massage since 2016. Her treatment style is versatile and tailored to each patient's needs, from deep tissue to stretching to relaxation. She also has advanced training in Ashiatsu, a style of deep tissue barefoot massage (ie: walking on you!) McKenna keeps busy with a variety of recreational activities and obscure competitive sports.

X

Bethany is a Licensed Massage Therapist and is an insured member of Associated Bodywork and Massage Professionals. She studied massage at University of Western States and has been practicing massage since 2013. Bethany likes to combine the Deep Tissue therapeutic aspects of massage along with the relaxation. She has training in Relaxation, Deep Tissue, Myofascial Release and most recently has completed her training in Oncology massage. Bethany has a background of working as a Certified Nurse's Assistant in an assisted living community where she discovered how massage is a more wholesome and healthy way of achieving pain relief. With the encouragement of the Nursing staff and Residents, Bethany began her training in massage with the goal of bringing touch therapy into the medical setting. Bethany has completed internships at Compass Oncology in Tualatin, Oregon and at OHSU providing massage in the Chemo-infusion clinics.  With her background of practicing massage in a chiropractic clinic, spa and hospital settings, Bethany is able to adjust the massage for every client's needs.

In her free time Bethany enjoys hiking and outdoor photography.

Kimberly

CA, MT

Multnomah Village

X

Kimberly

CA, MT

Multnomah Village

Kim offers focused, rehabilitative sports massage utilizing myofascial release, deep tissue, and soft tissue stretching and therapies. Kim is also a certified Yoga Instructor of adults and children, having earned certificates in both from The Lotus Seed's school of Yoga and Movement. She offers private, personalized yoga sessions designed to compliment your chiropractic care and keep you at your prime.

When not in the office, Kim can likely be found practicing yoga, spending time with her family, mountain biking, road cycling, and playing with her dog, Rocky.

David

LMT

Multnomah Village

X

David

LMT

Multnomah Village

Originally from Oahu Hawaii, competitive road cycling brought David to Portland, Oregon in 2009. This sparked his interest in a sports and movement oriented career.

David graduated from the Boulder College of Massage Therapy in 2013 and is actively licensed in Colorado and Oregon.

Utilizing a variety of techniques ranging from myofascial release, deep tissue, sports massage (pre/post event) and trigger point therapy, David creates a customized treatment for patient's specific needs. David's bodywork can best be described as rehabilitative and goal oriented to help restore the bodies natural mobility and balance.

In David's free time you can find him training or teaching Jiu Jitsu with his closest friends exploring the art of movement, timing and balance.

Stacey

LMT

Pearl District, Multnomah Village

X

Stacey

LMT

Pearl District, Multnomah Village

Stacey has been a massage therapist for just over 3 years and considers herself to be very lucky to love her work! She recently moved back to Portland from the heat of Las Vegas and is super happy to be back in the green! Stacey received her training from the Nevada School of Massage Therapy in Las Vegas. It was a very broad program and included training in a wide variety of modalities. Prior to massage therapy, Stacey worked in the medical field so transitioning to a chiropractic clinic when she moved back to Portland seemed like an easy choice. Trigger point release is her favorite modality. "If you've got the knots, I've got the solution!"

X

Jay has been practicing massage since graduating from East West College of Healing Arts in the spring of 2021. His training includes deep tissue, myofascial release, neuromuscular, structural deep tissue, and is a Somassage® practitioner. His approach emphasizes freeing restrictions in the fascial connective tissue allowing for effective movement, structure, and support. He focuses on helping clients to better connect their mind and body through movement which he incorporates in his sessions.

Jay has fallen in love with Oregon since moving here in 2019. In his free time, he enjoys exploring the variety of landscapes and amenities this region has to offer with his partner. He also finds comfort being at home playing piano, knitting and weaving, or curled up with a good book.

X

Lacey got her start in the field of health as a personal trainer and group exercise teacher specializing in yoga for over 10 years. Her passion for health and well-being inspired Lacey to broaden her education in yoga and massage in the country of Nepal – an experience she will always cherish. Upon returning from her adventure in Nepal, she began her education in massage therapy at University of Western states. She specializes in therapeutic massage and treatment focused work.

Alexandra

LMT

Pearl District

X

Alexandra

LMT

Pearl District

Alexandra is originally from Portugal but has called Portland home for the last twenty years. She has been deeply involved with the realm of body movement since she was a child. In her country, she practiced and competed in gymnastics for ten years. As a young adult, she performed in acrobatics, practiced Taekwondo and Akido until an injury to her back led her to seek therapies such as chiropractic care, massage, acupuncture, and yoga as a means to ease her pain. Throughout the years these therapies and practices have yielded transformative experiences both at physical and emotional levels.

Alexandra's experience as a certified yoga instructor has allowed her to deepen her understanding of how to move muscles and joints through the limitations of pain and injury. Her love for traveling coupled with her desire to further her knowledge of how to create harmony between body and mind led Alexandra to spend two months in Thailand where she completed an intensive Traditional Thai Massage course. This was Alexandra's first experience in taking the role of the provider rather than that of the receiver. This experience also led her to enroll at East West College of the Healing Arts to become a massage therapist.

As a therapist, Alexandra's goal is that her clients leave each session with a sense of well-being, better mobility, and a feeling of greater connectedness to their own body. When appropriate and with willingness from the client, Alexandra enjoys incorporating different techniques such as Swedish, Deep Tissue, Trigger Point Therapy, Silicone Cupping, Thai Massage, and Tui Na in her massage sessions.

When Alexandra isn't teaching or massaging, she can be found traveling the world, learning languages, cultures, and people, rock climbing, hiking, scuba diving, and singing.

Kristen

LMT

Pearl District, Multnomah Village

X

Kristen

LMT

Pearl District, Multnomah Village

Kristen is a graduate of East-West College of the Healing Arts, and a Licensed Massage Therapist. She is an East Coast transplant, and loves being a part of the Portland community! Kristen specializes in trauma informed care, with a medical/therapeutic style. As an Army veteran, she is experienced in working with people coping with trauma, PTSD and anxiety. Her goal is to make everyone feel like they are the most important person in the world while they are on her table! She uses multiple techniques to bring about physical healing in the musculature, from gentle work to deep tissue release. Kristen believes that good communication is the foundation for successful healing, and works closely with clients to discover the source of any pain or discomfort. Massage has given her a way to help others cope with their experiences in a safe, inclusive, understanding environment.

When Kristen isn't working or thinking about massage, she spends her time with family and friends. She loves to hike in the surrounding areas, visit the ocean, and travel any chance she can. She has three amazing (adult) children, and is blessed to have the two youngest living with her, who are also trans adults. So Kristen is personally familiar with many of the challenges the trans community faces, and considers herself an ally. Most of all, she feels that massage is her calling, and loves having the best job in the world!
Craig

CA, CPT

Pearl District

X

Craig

CA, CPT

Pearl District

Having suffered a near fatal car accident, Craig understands not only the frustration and fear that come with a injury but also the importance of being listened to and cared for in recovery.

Being able to help someone get out of pain and accomplish things they never thought they would be able to do is the greatest part of his job.

As a personal trainer for over 19 years, Craig has worked with and helped everyone from young athletes to seniors, those with severe cardiac and/or musculoskeletal injuries, paraplegics, and those recovering from brain traumas.

He has completed many certifications and courses, including: Exercise Coach and Lifestyle Coach with the CHEK (Corrective, Holistic, Exercise and Kinesiology) Institute, Grey Cook's Functional Movement Screen (Both Advanced and General Populations), a Certified Personal Trainer with The National Academy of Sports Medicine, and many more.

When he is not coaching, he loves acting and stand-up comedy (but only when they laugh). He also loves spending time with his family and trying to keep up with his 4 and 6 year old (who always make him laugh).

Sarena

CA, CPT

Pearl District
Jillian

Accounts Specialist

Jessica

Accounts Specialist

Pearl District

Shea

Accounts Specialist

Multnomah Village

Emily

Administrative Assistant/Operations Coordinator

Pam

Patient Care Coordinator

Pearl District

Jaylah

Patient Care Coordinator

Pearl District

Jazlyn

Patient Care Coordinator

Multnomah Village

Vivian

Patient Care Coordinator

Pearl District

Bailee

Patient Care Coordinator/Billing Specialist

Pearl District, Multnomah Village