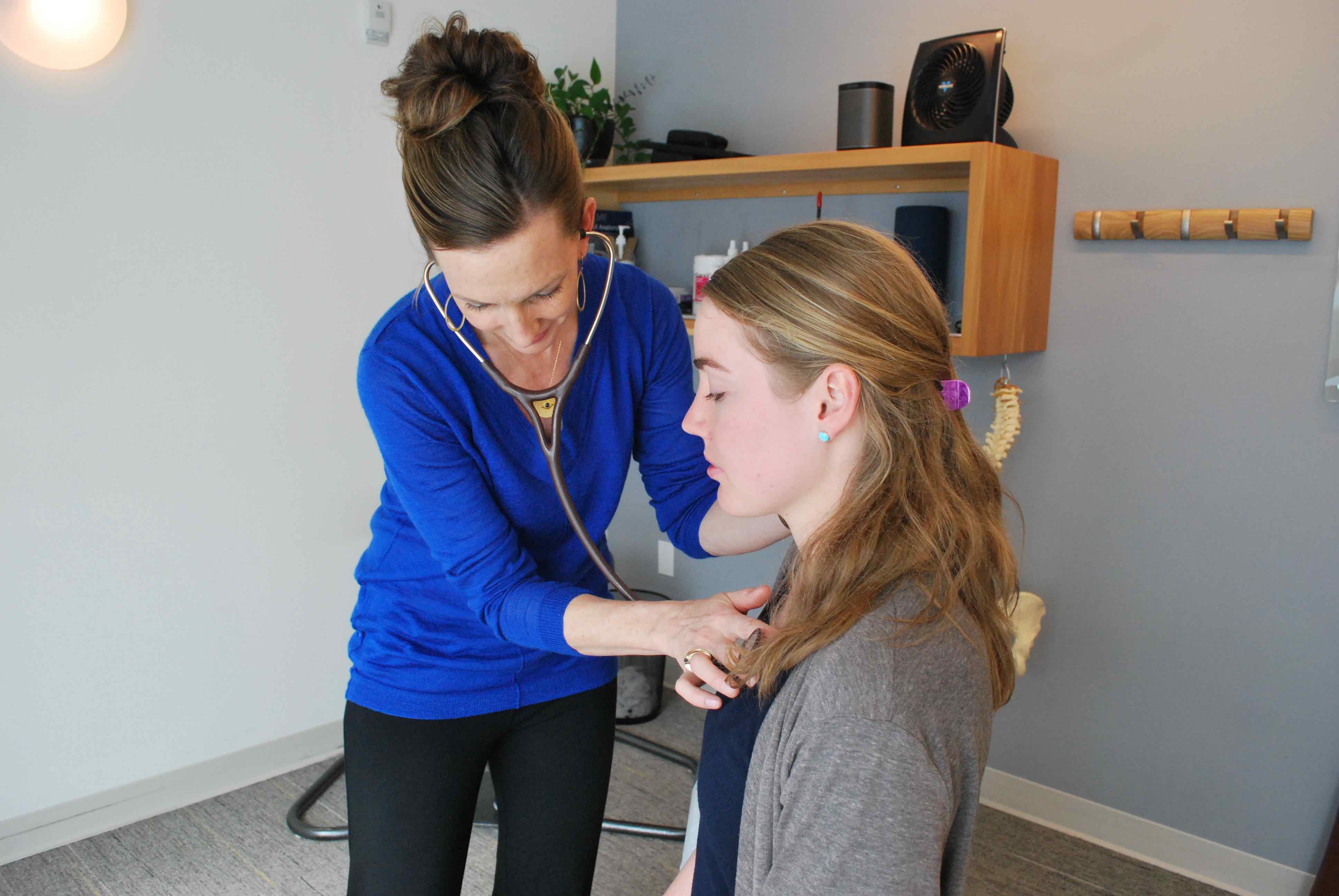 4 minute read.
Even seemingly minor, low speed auto accidents can lead to painful long-term conditions of the body and brain when not treated properly. It has been proven that post-auto accident care is most effective when ALL aspects of your health are addressed. At Hosmer Chiropractic Health, we offer chiropractic, naturopathic, nutritional therapy, physical rehabilitation and massage therapy services.  We use a phased approach to treating accident-related injuries that considers your short- and long-range health. The benefit to you is that you are part of a proven team, who have expertise in variety of specialties. Our quality care gets you better faster, so that you can return to the activities that you love.
OUR APPROACH:
Reduce pain quickly
Restore and preserve joint range of motion
Repair any musculoskeletal imbalances and prevent scar tissue formation
Re-establish whole health by addressing any accompanying health concerns, such as sleep difficulties or work disturbances
Rebalance health to reduce the likelihood of long-term health complications, such as recurrent headaches, neck pain or back pain
At your initial appointment your doctor will perform a thorough evaluation for each injury or condition you're struggling with, as a result of the collision, to make sure we understand the cause of your pain and how it is impacting your lifestyle. Follow up visits will be tailored to your symptom presentation and will likely involve seeing multiple health practitioners (i.e. chiropractic and massage).
CHIROPRACTIC CARE
Our doctors are highly regarded in the Portland area as leading chiropractors, working with a wide range of conditions. Their success in treating auto-injuries is achieved by individualizing care and incorporating a variety of proven treatment techniques such as manual therapy, active release technique, soft tissue rehabilitation, and home care – personalized programs that involve postural education, strengthening/stabilizing exercises, and active range of motion exercises that are designed to help speed recovery.
NATUROPATHIC CARE

Our naturopathic physician works to identify and remove the underlying causes of your symptoms and promote wellness. Car accident injuries can have both physical and emotional layers – addressing all associated symptoms is key in achieving wellness. Drawing from a large toolkit of treatment methods, naturopathic medicine blends centuries-old natural therapies with current evidence-based treatments. Our naturopath specializes in alternative pain management and is trained in regenerative joint injections (prolotherapy and platelet rich plasma therapy). Considering that proper nutrition is a foundation to health and healing, we also coach patients on how to incorporate a diet specific to their circumstance, in order to aid in the repair of connective tissue and decrease inflammation.
MASSAGE THERAPY
Hosmer Chiropractic Health has a full staff of Licensed Massage Therapists (LMTs) who are trained in a variety of massage styles. Massage treatments can can be used to aid with injury recovery, help manage pain, or promote general relaxation and well being. At Hosmer Chiropractic Health, massage treatments can be combined with your other appointments.
PHYSICAL REHABILITATION
Rehabilitation is a proven way to help optimize recovery from injuries and reduce the likelihood of relapses. While treatments will help reduce your pain and put you on the path to recovery, you need to improve joint mobility, strengthen muscles and improve your flexibility for the best outcome. Our rehab specialists will guide you through the right kinds of movements and exercises at the right intensity. You will be provided with a rehabilitation plan (a combination of in clinic and home exercises) that will evolve as you continue to progress through treatment.
If you've sustained an motor vehicle injury, according to Oregon law, personal injury protection (PIP) coverage is mandatory for all Oregon auto insurance policies. Regardless who is at fault, you and all the passengers in your car are entitled to have your medical expenses and lost wages covered, including the cost and co-pays for alternative healthcare options, such as massage therapy, chiropractic and naturopathic treatments. Most PIPs typically cover medical expenses up to $15,000 for two years after your accident.  
If you or someone you know has been in auto-accident, please contact Hosmer Chiropractic Health so that we can team with you and get you back on the road to recovery: (503) 227-2279