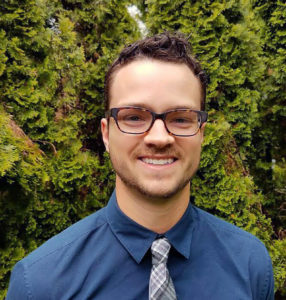 Dr. Adams' interest in athletics, living a healthy lifestyle, and helping others led him toward pursuing a career in healthcare. He started out in athletic training and rehabilitation at Hastings College, where he earned his Bachelor's degree in Biopsychology. Dr. Adams then pursued both a Masters of Science in Sports Medicine and Doctor of Chiropractic from the University of Western States in Portland, OR. After three years of practicing at AccidentCare Chiropractic and Massage, Dr. Adams is excited to be joining our team at Hosmer Chiropractic Health!
He brings both his clinical and personal experience in sports medicine and rehabilitation to provide the highest level of care for every patient he sees. He has a passion for keeping people active and making sure that they are on track to reach their goals. Whether it's getting back the sport you love, being able to keep up with your children, or simply getting through the workweek pain-free, Dr. Adams will be by your side along the way. He understands what it's like to be injured and knows what it takes to help you recover stronger than before. Dr. Adams has extensive training and will be certified in Active Release Technique (ART) this December. His training also includes experience with the McKenzie Diagnostic Technique and Functional and Kinetic Treatment with Rehab (FAKTR).
Outside the office, Dr. Adams enjoys spending his time outdoors and his hobbies range from playing golf, snowboarding, fishing, camping and hiking to throwing the ball for his dog, Harper. Welcome, Dr. Adams!