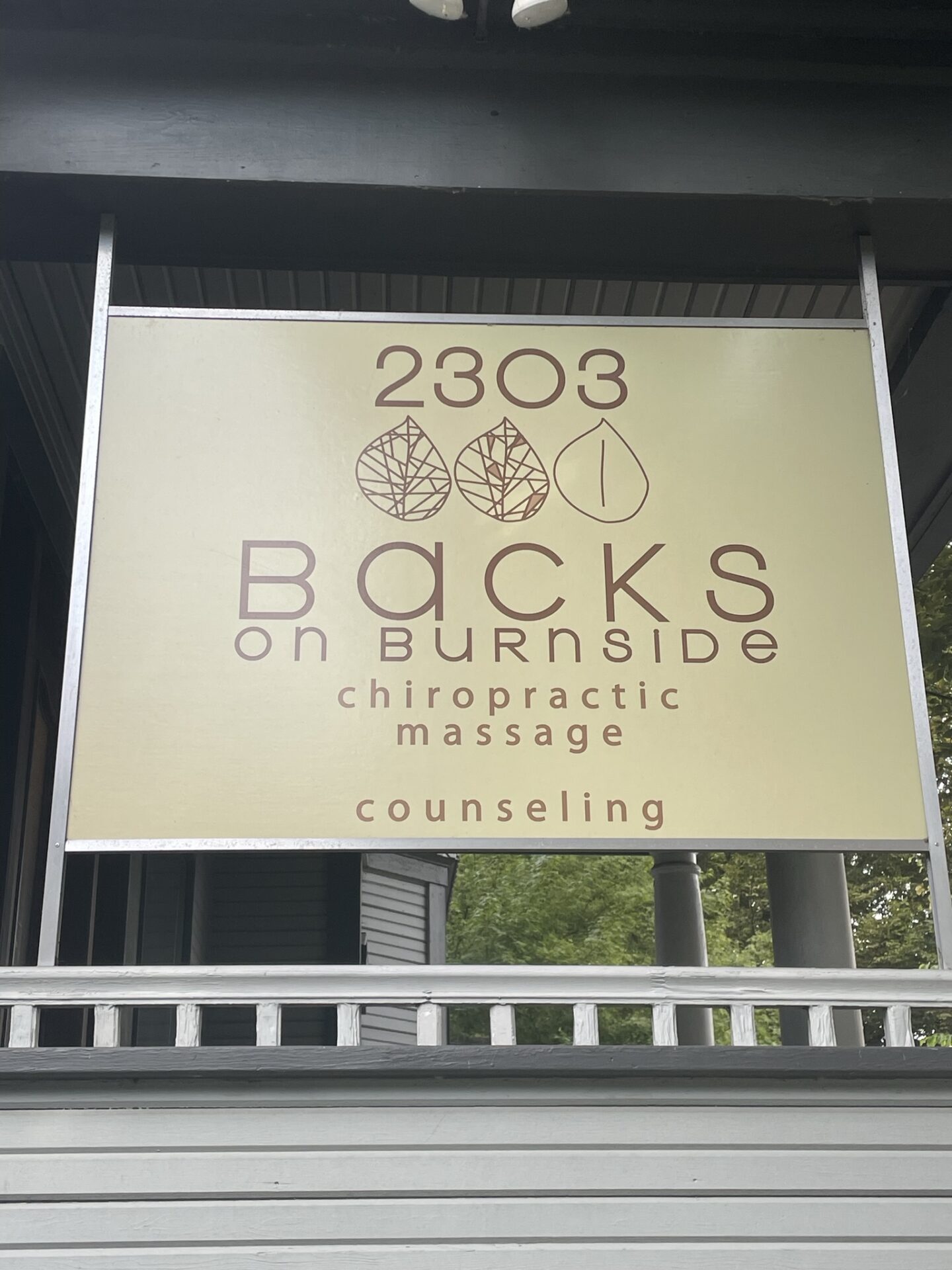 We are happy to announce our first East Side location, opening September 5th, 2023!  The clinic will be located at 2303 East Burnside St, and is currently operating as Backs on Burnside.  Dr. Gail Karvonen is retiring after over 30 years of practice, and has asked us to provide the same high standards of care that she provided.  We are thrilled at the opportunity to expand!  We are also happy to report that most of the staff will be staying on, and we're upgrading their systems to allow for online booking of appointments.
Dr. Karvonen asked us to post this message to her current patients:
Dear Backs on Burnside Patients,
It is with mixed emotions that I announce my retirement and changeover in ownership from Backs on Burnside where I have practiced chiropractic and managed the clinic for over 30 years. It has been a blessing and a pleasure to work with many of you and I'd like to thank you for having your wellness journey with me. The relationships that have been built have been one of my fondest memories.
Some of you have been with the practice since the early days when it was known as Backs on Broadway and I was a solo practitioner with a part-time front desk person.  Over the years the clinic has grown and I have worked alongside many talented staff who have provided high quality chiropractic care and massage and helped build the reputation of the clinic. But it has been you, the patients who have created the Backs on Burnside community, who have referred family and friends for treatment and helped establish us within the area as a place for effective care.
One of the most difficult aspects of retiring is making sure that patients will continue to receive high quality care. With a team of practitioners at Backs on Burnside already in place finding the right clinic to take over ownership with the vision to support and inspire has been challenging. I am pleased to announce that I have found a practitioner with that vision who has a similar practice approach and wants to ensure that the clinic continues to provide patient-centered treatment. On my retirement September 3, 2023, Hosmer Chiropractic Heath, will take over ownership at 2303 E. Burnside St. enabling current staff to work and patients to be treated in the chiropractic and massage home to which they have been accustomed. Dr. Seth Hosmer has been generous offering time and talent to the changeover and providing excellent staff support. Hosmer  Chiropractic Health will also serve as custodian of patient records beginning in September, and you may contact them at (503) 287-7733 if you would like to obtain a copy.
With any shift there will be a few changes but many familiar faces. Dr. Sam Sisto-Lopez continues as one of our main treating chiropractors. The front desk staff will oversee scheduling and training in new software that will allow many features including on-line appointments. Many of the massage therapists who you have been treated by over the years will continue with the practice and some new skilled practitioners will join.  Counseling on Burnside, owned by my husband Joe Alexander LCSW, will continue to work out of the building with it's talented team of counselors.
Nurturing and managing this clinic has been a life focus for me in addition to maintaining my long term relationship with Joe and raising our two children Claire and Tessa. As my retirement nears, I want to thank each of you for the inspiration that allowed the clinic to grow and thrive over the years. If you are not currently receiving treatment at the clinic, stop by when you have a need for chiropractic or massage.
Warmly,
Gail Karvonen, DC